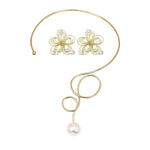 My Name is Tricia Blake, I am the proud owner of a Black-owned company called Diva Choice. We design and make statement Fashion Jewellery, Body chains, and uniquely crafted statement African-inspired Jewellery pieces, we are based in the UK.
I love statement pieces and tend to wear fairly large pieces from earrings to necklaces and cuffs but I also love flamboyant clothing, and sometimes our large pieces clash with the outfits that I choose, so we have started to include some smaller pieces within our collection designs to combat that.
I attended DODD's Birthday event on the 20th of August, the theme was a "Touch of White, and I thought  the 

ASOS Design Petite Glitter Insert Pearl Mesh Midi Pencil Dress

from

 
@ASOS
 

was a perfect fit for the theme. 
When it comes to making a statement at any special occasion, finding the perfect dress that seamlessly blends elegance and uniqueness is key.
The ASOS Design Petite Glitter Insert Pearl Mesh Midi Pencil Dress is a true embodiment of timeless sophistication combined with a touch of playful allure. In this review, we'll delve into the intricate details and overall experience of this dress, exploring why it's a must-have for those seeking a captivating and memorable ensemble.
The ASOS Design Petite Glitter Insert Pearl Mesh Midi Pencil Dress boasts a meticulously crafted design that effortlessly captures attention. The juxtaposition of delicate pearl embellishments against the backdrop of subtly shimmering mesh creates a visual masterpiece that exudes understated opulence. The glitter insert adds a tasteful touch of glamour, making this dress suitable for a range of occasions, from elegant soirées to romantic evenings
I have a short Torso so felt that I would be able to get away with the petite range especially as it comes in my size (UK 16, 14 at times lol), however I found the fit at the top of the dress quite awkward as it seemed to be big in parts and tight in others, this could be because I personally have board shoulders but never the less it looked very nice. 
My final overall score for the dress is 8 out of 10 this is due to the fact that the dress is stunning to look but as mentioned the constant adjusting because of the awkward fit is what has ultimately caused the loss of points 
I paired the outfit with the Simmi London Wide Fit Franca Heels.  Let me tell you these heels exude timeless elegance with a modern twist. The ivory satin finish radiates understated charm, making them a versatile choice for a range of outfits.
The intricate embellishments, carefully arranged across the front straps, add a touch of opulence that catches the light and draws admiring glances.
One of the standout features of these heels is their wide fit design. As someone who values comfort without compromising on style, I was pleasantly surprised by how well these shoes accommodate my feet. The wide fit ensures that my toes have enough breathing space, and I can confidently walk and dance without any discomfort. ( I didn't make the whole night the flip flops did come out lol) But they did serve me well. 10 out of 10 for these shoes 
Last but not least I completed the outfit off with our La Joya Necklace and earrings (not a set but can be purchased separately)
This necklace is a fusion of classic charm and contemporary creativity. A harmonious blend of a Statement Pearl and avant-garde design captures the essence of timeless beauty while embracing the spirit of the modern fashionista. The earrings are wired flower studs with tiny pearls included within the design 
I also wore our IME Azania index ring which is part of our African Map series. Most pieces come in Gold or Silver and can be purchased directly from our online boutique www.divachoice.co.uk
We sold out of the La Joya necklace a while ago and was not going to feature it again however we had quite a few requests to bring this piece back especially since we released the Swirl neck pieces with African-inspired centrepiece finishes that feature African maps, Ankhs and Nefertiti Queen Heads .
I have to say I am glad we brought it back I think it was the perfect finish for the outfit. Let me know if you agree with my accessory choices for the dress in the comments and please consider liking the article and subscribing to the newsletters, (I will be posting a lot more)
Here are the links to the items reviewed
The Statement La Joya Pearl Necklace 
https://www.divachoice.co.uk/collections/necklaces/products/margarite?variant=44147969622190
Simmi London Wide Fit Franca Heels
https://www.asos.com/simmi-wide-fit/simmi-london-wide-fit-franca-embellished-heels-in-ivory-satin/prd/204181849?acquisitionsource=pasteboard
The ASOS Design Petite Glitter Insert Pearl Mesh Midi Pencil Dress 
https://www.asos.com/asos-petite/asos-design-petite-glitter-insert-pearl-mesh-midi-pencil-dress-in-black/prd/203167940?acquisitionsource=pasteboard
Sunglasses - By Black owned Business Bring On The Sun
https://www.instagram.com/bring_onthesun2/
Thank You
As a thank you for engaging with this blog we would like to offer you a special discount, Head over to our website www.divachoice.co.uk and use discount code Blog for 10% off your entire order.
Tricia Blake - Queen Diva x